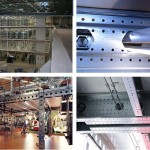 Innovation: the energy-saving mezzanine system produced by Nolte Storage Systems (NSS)
Particularly in industrial environments, proper lighting is essential for working safely. Consequently, lighting in these environments consumes a lot of energy.
That's why Nolte Storage Systems decided to design its mezzanine system differently. The beams and supports of the new NSS mezzanine floor have large hexagonal openings which facilitate the installation of lighting. There is hardly any shadow effect and the lighting system is well protected.
Energy savings up to 43%
With the NSS mezzanine system, half as much lighting is needed to get the same light output, resulting in considerable savings in purchase and energy costs.
Other substantial savings
The profiles can also be used to install sprinkler systems. The sprinkler systems are better protected, leading to an average saving of 17% per year as a result of less damage.
The same design modification allows for the profiles to be used for wiring, which can be safely installed out of sight, without the need for cable ducts. This results in no less than 11% cost saving during installation. Moreover, by improving the profiles, Nolte is now able to produce a much stronger mezzanine.
An additional study is currently being conducted with a view to making the floor even lighter and stronger. This can be achieved by using a different process to mould the steel into shape.
The necessity of innovation
If you know what needs to be taken into account, energy saving is simple. It benefits the environment, prevents pollution and saves valuable resources. And it also saves money. The interviews with end users revealed that they have to invest heavily in lighting. They all regard this investment and the purchase of an intermediate floor as two separate investments which do not affect each other. Nolte Storage Systems, however, discovered that these two investments do affect each other. By involving the entire chain, Nolte Storage Systems was able to develop this innovation.