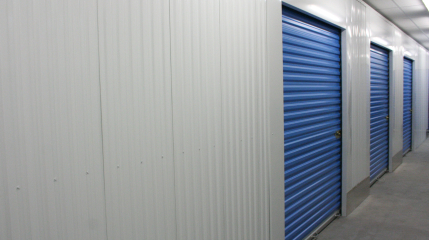 The height of the wall systems usually correspond with the height of the hallways, though our walls can be designed and produced to fit your building. The walls are made of Aluzinc: steel plate covered with a high-resistant zinc-aluminium coating. On top of that, an "anti-fingerprint" coating is applied, providing a smooth and resistant finish.
Trapezium shape provides extra strength
For extra strength, the wall panels are corrugated and have a rounded Trapezium shape, so that panels can be connected during construction. All our walls come installed with a mid-span bracing, which is often required by insurance companies, because of its additional safety.
Hallways
Hallways are usually 2 to 3 meters high. However, every building is designed in its own way, so hallway height can be adjusted to the size that suits your building best.
Let your building stand out with the following options:
Doors in several colours, as well as Custom Design
Single or double soffit systems
A range of aluminium checkered plate corners and protectors
Wire-mesh protection, horizontally or vertically on your units
These options enable us to produce customized wall systems.
A client of ours is a distributor of weekly and daily newspapers. It's great that we can provide him with more storage space without him having to renovate his property for thousands of euros.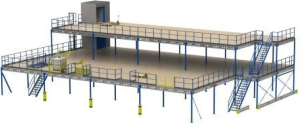 Mezzanines
With Nolte's Mezzanine systems you can create additional working space with ease.
More information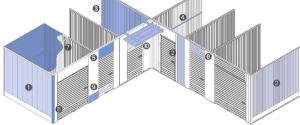 Self-Storage Layouts
Get the most out of your property with Nolte's Self-Storage Layouts.
More information