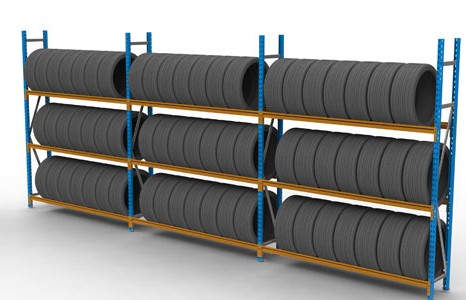 Tyre racking – Nolte Storage Systems
Tyre storage
Are you a garage manager or do you sell tyres? Well, then you know how essential a good storage system is.
A good tyre racking system maintains the quality of the tyres, and that's what it's all about!
Solutions for every type of tyre
Nolte Storage Systems has racks for every size and type of tyre: car tyres, truck tyres, and even bicycle tyres. We combine different systems for efficient storage, for example, long-span racking or pallet racking in combination with a mezzanine system.
Optimum use of space
As every car fleet is different, we produce racking systems according to your wishes, so that you will be able to make optimum use of the existing space in your warehouse, garage or storage facility. By inserting beams, the racks can do without cross-bracing, which makes it easier for you to load/unload your tyres.
Technical Specifications
Frame height:            2,000 mm – 10,000 mm
Frame depth:             400 mm
Beam length:             950, 1150, 1350, 1500, 1850, 2000 mm
Adjustable in 50 mm increments
Advantages of NSS-AR Tyre racking systems
Increased flexibility and a better overview
Multiple levels, if so desired
Quick assembly and therefore a shorter installation lead time
Fast delivery
More information
Please contact us for more information about our customized tyre racking systems.
A client of ours is a distributor of weekly and daily newspapers. It's great that we can provide him with more storage space without him having to renovate his property for thousands of euros.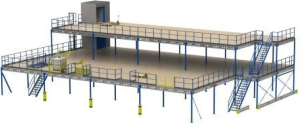 Mezzanines
With Nolte's Mezzanine systems you can create additional working space with ease.
More information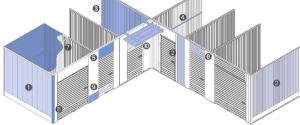 Self-Storage Layouts
Get the most out of your property with Nolte's Self-Storage Layouts.
More information