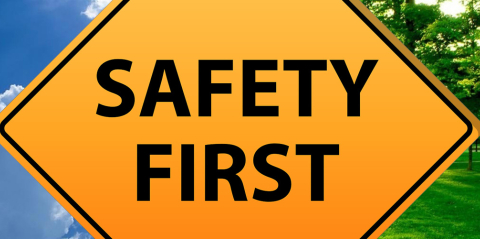 The Dutch Working Conditions Act was implemented to ensure that employees perform their work in a safe and healthy environment until they reach retirement age. There are also other laws that protect workers from possible negative aspects at work.
Three Levels
Dutch working conditions legislation involves three levels: the Working Conditions Act, the Working Conditions Decree and the Working Conditions Regulation.
Working Conditions Act

 – This Act constitutes the basis for the Dutch occupational health and safety legislation. It contains general provisions applicable to all locations where work is performed (including those of associations and foundations). The Working Conditions Act is a framework Act, which means that it does not contain any concrete rules (these have been worked out in the Working Conditions Decree and the Working Conditions Regulation). The full text of the Working Conditions Act can be found on the Dutch government website.

Working Conditions Decree

 – The general rules in the Working Conditions Act have been worked out in detail in the Working Conditions Decree. This Decree contains the rules that both employers and employees must adhere to in order to prevent occupational risks. These rules are mandatory. The decree also contains a number of special and additional rules for specific sectors and categories of workers. The full text of the Working Conditions Decree can be found on the Dutch government website.

Working Conditions Regulation

 – The rules in the Working Conditions Decree have in turn been worked out in greater detail in the Working Condition Regulation, which contains hard and fast requirements, for example, with regard to work equipment and how occupational health and safety services are to perform their statutory duties. These rules are also mandatory for employers and employees. The full text of the Working Conditions Regulation can be found on the Dutch government website.
Target Regulations
Since 2007, the Working Conditions Act has been simplified. That is, the Act sets out a number of 'target regulations', but employers and employees have been given more freedom to determine for themselves how they meet these objectives. For example, the Act does state requirements with regard to the maximum noise level in the workplace, but it is up to the individual companies how they meet these requirements.
Health and Safety Catalogue
Through the works councils or employee representative bodies, employers and employees themselves work out how they can best comply with the target regulations set by the government. The agreements they reach are set down in a health and safety catalogue. Companies can either draw up such a catalogue themselves or become party to agreements set down in a sector-specific catalogue. The Labour Inspectorate assesses the sector-specific health and safety catalogues to ensure that the target regulations will be complied with. Click here for all health and safety catalogues available from the Arboportaal website of the Dutch Ministry of Social Affairs and Employment.
Employer Obligations
Dutch working conditions legislation includes the following obligations that employers must comply with:
Every employer has to develop and implement a working conditions policy. The work performed in the company may not cause any negative effect on the employees' health and safety.

Unless this cannot reasonably be required, hazards and risks to the safety or health of the employee shall wherever possible be avoided or limited at source in the first instance. For example, if a machine makes much noise, it must be replaced by a machine that produces less noise.

Where this can reasonably be required, the design of the workstations, the working methods, tools, and the actual work required shall be adapted to employees' individual characteristics. This also applies with regard to employees with structural functional limitations caused by, for example, illness.

Monotonous work and work that needs to be carried out at a particular speed shall be avoided, where this can reasonably be required, and if not, shall be limited.

The employer shall produce a written inventory and assessment of the risks to which employees are exposed as a result of their work. A plan of action, indicating the measures to be taken in conjunction with the relevant risks and the relationship between them shall be part of the risk assessment and evaluation.

The employer shall take the measures required to prevent and limit serious accidents involving dangerous substances.

Information and instructions should be given to employees with regard to the use of tools and

 

personal protective equipment, and how to deal with aggression, violence and sexual harassment in the company.

The employer shall notify the relevant supervisor immediately of any accidents at work and occupational diseases, and shall keep a list thereof.

If the safety or health of persons other than employees can be put at risk as a result of, or in direct connection with, the work that the employer has done by his/her/its employees in a business or establishment, or in the immediate surroundings, the employer shall take appropriate measures to prevent that hazard.

Employers shall give employees the opportunity to undergo examinations at regular intervals with a view to preventing or limiting the risks posed to their health by their work to the greatest possible extent.
Employee Obligations
Employees need to comply with a number of regulations too. The most important ones are:
Employees must use tools and dangerous substances properly.

Employees may not modify protective devices fitted to tools or other objects or remove them without need, and must use them correctly.

Employees must use personal protective equipment supplied to them properly, and return it to the proper storage place after use.

Employees must participate properly in the training they are given

for their particular tasks in respect of the working conditions.

Employees must notify the employer or their local manager immediately of any hazards to safety or health of which they become aware.

Employees must assist the employer, employees, and other experts (prevention officers, company emergency response team members and occupational health service providers), where necessary in the exercise of their obligations and tasks under this Act.
With regard to warehouse racking systems, Occupational Health and Safety Information Sheet 14 "Business Premises – Layout, Transport and Storage" is also relevant. The three main topics discussed in this information sheet are:
Indoor climate (dimensions, air volume, lighting, noise, climate control, ventilation, etc.).

General site design and layout (electrical installations, floors, walls, ceilings, windows, rest rooms, dressing rooms, sanitary facilities, emergency facilities, etc.).

Specific site facilities (transport and means of transport, storage facilities, etc.).
A client of ours is a distributor of weekly and daily newspapers. It's great that we can provide him with more storage space without him having to renovate his property for thousands of euros.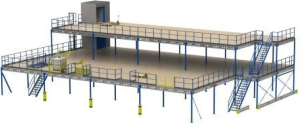 Mezzanines
With Nolte's Mezzanine systems you can create additional working space with ease.
More information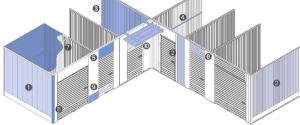 Self-Storage Layouts
Get the most out of your property with Nolte's Self-Storage Layouts.
More information